Quilting Retreats
ENJOY A RELAXING WEEKEND
IMMERSED IN YOUR FAVOURITE HOBBY!
Develop your skills and learn a variety of new techniques from Internationally renowned tutors!
Michael Fitchett 7th-9th Feb 2020
We are really excited to invite a new tutor, Michael Fitchett to teach a retreat for us from Fri 7th-Sun 9th Feb 2020! (2 spaces left)
Michael is a designer, teacher and artist who takes his inspiration from vintage travel posters and printmaking. Michael recently won an award for his quilt at Festival of Quilts 2019 where he was also a tutor.
Michael had a long career as an artist/designer for a UK architectural clock building company. Examples of his clocks can be found in public spaces in the UK and overseas.
Sketching forms the centre of Michaels art and he likes to take his sketchbook wherever he goes.
On the Friday evening Michael will share with you his talk ' Travels with my Sketchbook', giving you insight into the design process that he works through in order to create his beautiful quilts
On Saturday and Sunday Michael will be teaching his 'Colour, Tone and Atmosphere' workshop which is inspired by Vintage travel posters. Michael will help you develop your design skills and use of colour and tone, working with paper to begin and then transferring these design ideas into fabric, using a palette of plain cottons.
This is sure to be an inspiring weekend, developing new skills in the company of a talented artist and designer!
Jennie Rayment
Jenny Rayment
Fri 24th- Sun 26th April 2020

After a fantastic weekend last year we are pleased to welcome Jennie Rayment back for another retreat with something a bit different this time!
Tree for all Seasons - Jennie Rayment
A wide variety of techniques are covered in creating this scenic vision. The same tree will be viewed through all the seasons on a background of pieced, appliqued, curved, textured and woven backgrounds. Learn many different techniques that can be applied to other projects. The four panels could be completed as one piece or maybe as four separate creations. For those who like free motion - here is a chance to explore but if terrified - then stick with your walking foot. Use up all those scraps in a variety of intriguing ways. Complete all four designs in the two day workshop ready for quilting.
Abbie Anne Searle
Abbie Anne Searle
18th - 20th Sept 2020

We had a brilliantly fun and creative weekend with Abbie Anne in September and we are pleased she's able to return next year. The projects were chosen by this years ladies and include Harvey the beautiful fighter fish!
Abbie is hugely inspiring and will help you explore your creative side!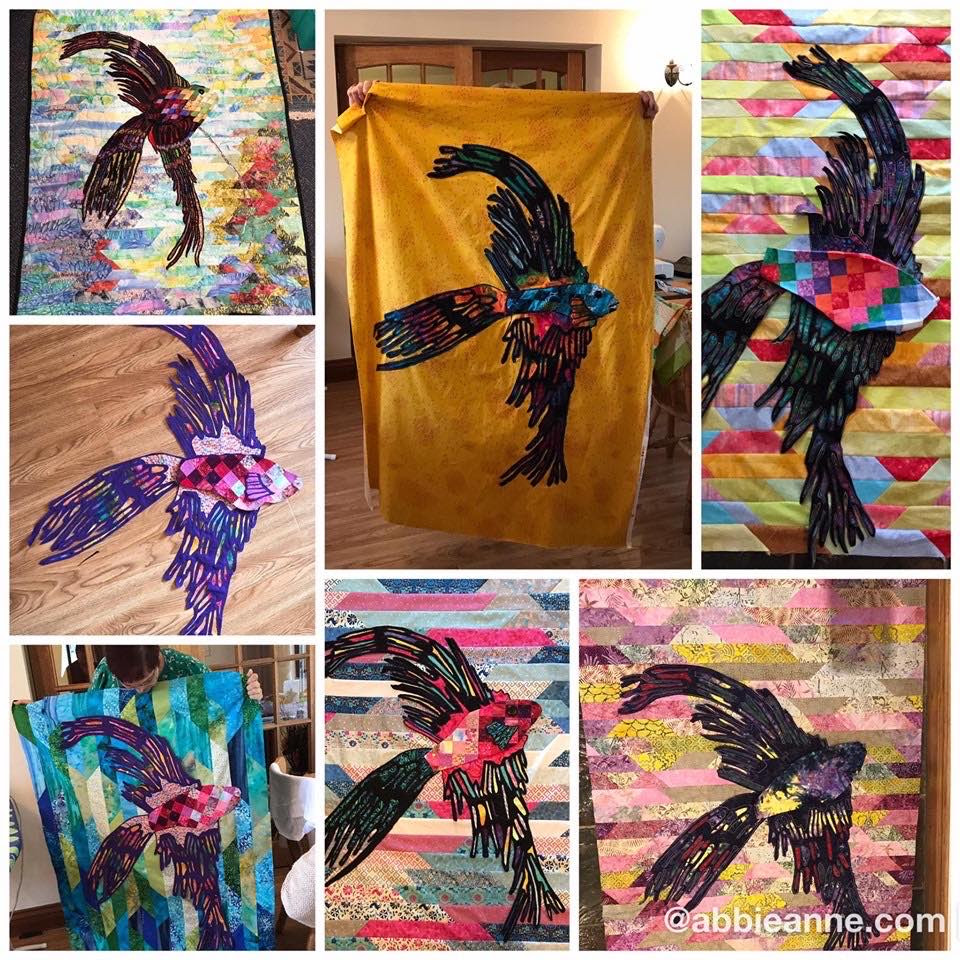 Gail Lawther
'By the Water's Edge'
30th Oct - 1st Nov 2020
Back by Popular demand Gail will be teaching another fun and inspiring retreat weekend for us later in 2020. This time the theme will be 'By the Water's Edge' featuring a wide selection of projects for you to choose from. There will be some of Gail's popular projects as well as some fantastic new ones to tempt you!
Spend a Fun weekend learning lots of brilliant techniques you'll be able to use time and time again!
picture to follow
Full board prices: £335 per person based on 2 people sharing. A number of Single Occupancy rooms are available at an addition single supplement of £30 per night.
(workshop materials not included)
What's Included:
- Start the weekend with a 3 course dinner and evening lecture from our Guest Tutor on the Friday evening
- 2 nights Full Board en-suite accommodation
- A fantastic meal package including Breakfast, a finger buffet lunch on Saturday, a 3 course dinner on Saturday night and Breakfast and a 3 course lunch on the Sunday
- 2 day workshop led by our guest tutor, with tea, coffee and biscuits during the day.
- Relax in the Leisure Club, with its superb indoor swimming pool, sauna and steam room
- two days workshop with our guest tutor (materials not included)
Can't make the whole weekend? Why not join us for the Friday eveing lecture with 3 course dinner £25.00 per person
For booking terms and conditions click here
To book please contact us on 01243 696670 or email at [email protected]